2017 Oregon Conservation Stamp
Nov. 14, 2016
SALEM, Ore
. – Today the Oregon Department of Fish and Wildlife announced the winners of its 2017 Habitat Conservation, Upland Game Bird, and Waterfowl Stamp art contests. Winners were chosen Nov. 5 at the ODFW art show and wine release event at Duck Pond Cellars in Dundee.
Habitat Conservation Stamp Winner – Craig Fairbert of Wisconsin with his painting of Ferruginous Hawk
Upland Game Bird Stamp Winner – Mickey Schilling of Colorado with his painting of Ring-necked Pheasant
Waterfowl Stamp Winner – Richard Clifton of Delaware with his painting of Gadwall
People's Choice Award Winner – Pamela Kirwin of Oregon with her painting of Columbia Basin Pygmy Rabbit
Fairbert, Schilling and Clifton will each receive a prize award of $2,000. Their paintings will be used to produce 2017 collector stamps and other promotional items to benefit Oregon's species and habitats.
ODFW art show visitors voted for their favorite artwork out of 67 entries on display. Oregon artists took the top three spots in this year's People's Choice Award.
Portlander Pamela Kirwin was voted number one for her painting of Columbia Basin Pygmy Rabbit. Deian Moore of Blodgett took second with her painting of Westslope Cutthroat Trout, and Cove artist Debra Otterstein was third with her painting of Great Gray Owl.
---
---
---
---
Pacific Northwest Art Event with Featured Artist Deb Otterstein
September 12 thru October 8th 2016

---
---
2015 donation to the Bobcat Foundation that supplies scholarships for Oregon's Union County students. Congratulations Beth!

---
---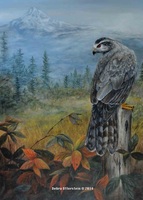 Nov. 26, 2014
Salem, Ore – ODFW today announced winners of its 2015 Habitat Conservation, Upland Game Bird, and Waterfowl Stamp art contests. Winners were chosen this past weekend at an event at Duck Pond Cellars in Dundee.
People's Choice Award Winner – Debra Otterstein of Cove, Oregon for her painting of the Northern Goshawk.
To see the entire article: Click on the painting.
---
---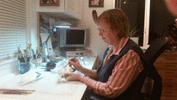 Wednesday December 24, 2014
Observer Go! Magazine
Wildlife artist wins people's choice award.


Click on image for article.

---
---

Wallowa Valley Festival Of Art 2014
Standing next to Primal Visitor People's Choice Winner


---

I was honored to be chosen to paint glasses for the 32nd annual Wallowa Valley Festival of Art silent auction. Opening night was Friday May 30th, 2014 in Joseph, Oregon. The show included 200 pieces of art and there were 90 artists represented from nine states. Primal Visitor was chosen as Peoples Choice. A big thank you to all the volunteers that make this show possible!!






---
---

Oregon Art Beat Exhibition, a 2 month true extravaganza exhibit organized by Portlandia's Chris Haberman, and exhibited in Haberman's People's Art of Portland Gallery, Mark Woolley at Pioneer Gallery and the Art Beat Main Stage Gallery. The cast of hundreds will feature artists who have appeared on OPB's popular Oregon Art Beat program. With approximately 300 Art Beat artists each displaying a piece of their art, the show will fill the four galleries on the top floor of Pioneer Place Mall, about 15,000 sq feet of exhibit space.


---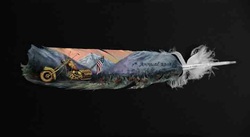 It is the 7th year for the Bronze Bike Rendezvous in Joseph, Oregon and the 7th year that a painted feather has been part of the festivities. August 2012.

Bike Feather with Wallowa Mountains in the background!

---
---
WVFA 2013


31st Annual Wallowa Valley Festival of Art 2013

The WVFA in Joseph, Or was an amazing show and I was honored to have three pieces of my work juried in.

---

A very nice couple from Australia was attending the Wallowa Valley Festival of Art and this little painting went home with them. May, 2013.

My second piece to travel outside of the U.S. It feels great to be an international artist!


---

GRCC Donation


This "Three Hummers" feather painting was donated to the Grande Ronde Child Center in La Grande, Oregon. The GRCC is a private non-profit agency dedicated to the treatment and education of children ages 3 through 17 with emotional, behavioral and mental health issues.

Congratulations to Lance and Kolleen on their winning bid, 2013.


---
---
Featured Artist Exhibits


The Short Term Gallery
1829 Main Street, Baker City, OR

It was a wonderful experience to be the featured artist for the months of July and August 2012. The First Friday events were great with wonderful old friends, delicious refreshments and entertainment. Thanks to Steffanie Gordon, fiddle player, who stopped in and played her fiddle. I will continue to have a few pieces of art available at the gallery through September. Click to read an article about the gallery.


---

Peterson's Gallery
1925 Main Street, Baker City, OR
The Country and Creatures Show at Peterson's Gallery was a wonderful event. The show ran through the month of October with the artist opening on October 5th, 2012.

---
2012 Events

---

This bison feather painting was donated to the Grande Ronde Child Center in La Grande, Oregon. The GRCC is a private non-profit agency dedicated to the treatment and education of children ages 3 through 17 with emotional, behavioral and mental health issues. The piece will be available at the Wild West Buffalo Burger Feast as part of the art auction to be held Sept 22, 2012 at the Sheehy Party Barn in Union, OR. Call 541-963-8666 for more information. Congratulations to Lance and Kolleen on their winning bid.

---
---
WVFA 2011

---
---
---
---
---